CLOUDS, Ludovico Einaudi

Composers: Ludovico Einaudi
Artist Jeroen van Veen piano,
Format 7 CD
Cat. number 96912
Release June 2023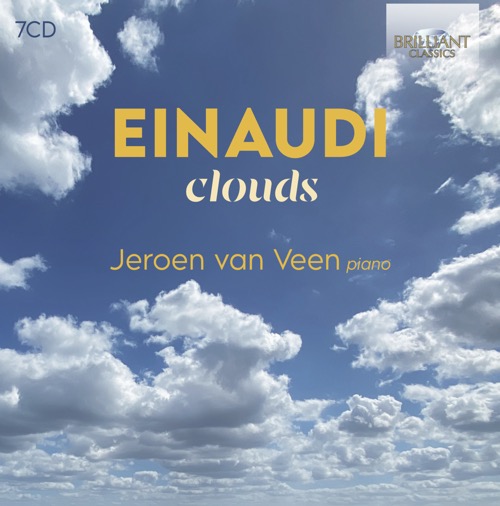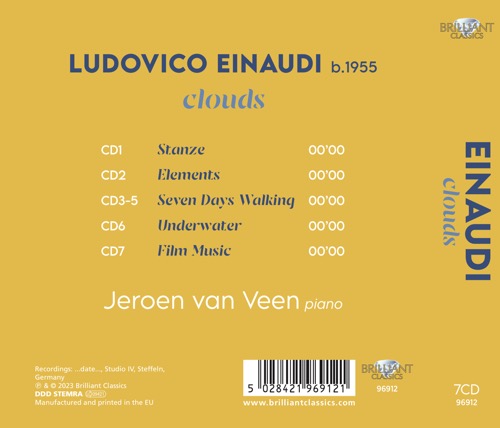 Clouds
STANZE / ELEMENTS / SEVEN DAYS WALKING / UNDERWATER




STANZE (1992)

01 Notte 04:22
02 Calore 03:40
03 Moto 02:25
04 Calmo 04:33
05 Vega 04:34
06 Onda 04:02
07 Contatti 03:15
08 Respiro 04:00
09 Lento 03:49
10 Attesa 03:29
11 Cadenza 03:10
12 Orbite 03:21
13 Moto perpetuo 02:34
14 Cerchio 01:53
15 Ritorno 02:24
16 Notte 04:16



ELEMENTS (2015)

01 Petricor 06:34
02 Night 05:30
03 Drop 05:00
04 Four Dimensions 04:42
05 Elements 06:05
06 Whirling Winds 05:58
07 Twice 05:21
08 ABC 03:05
09 Numbers 04:35
10 Mountain 06:13
11 Logos 06:23
12 Song for Gavin 03:18

Bonus tracks
13 Drop Variation 03:48
14 Elements Variation 03:39
15 Twice Variation 05:25



SEVEN DAYS WALKING (2019)
DAY 1
01 Low Mist Var. 1 02:29
02 Low Mist 05:25
03 Gravity 05:27
04 Matches 02:54
05 Cold Wind Var. 1 03:59
06 Golden Butterflies 05:53
07 Fox Tracks 03:38
08 A Sense of Symmetry 02:35
09 The Path of the Fossils 08:15
10 Ascent 05:37
11 Low Mist Var. 2 05:43
DAY 2
00 Low Mist Var. 1 02:44
00 Golden Butterflies Var. 1 05:57
00 Birdsong 05:25
00 Campfire Var. 1 06:14
00 Matches Var. 1 02:23
00 Low Mist Var. 2 02:45



DAY 3
00 Campfire 04:31
00 View from the Other Side 04:22
00 Full Moon 03:38
00 Cold Wind 04:32
DAY 4
00 Low Mist Var. 1 02:29
00 Gravity Var. 1 05:28
00 Low Mist Var. 2 05:16
00 View from the Other Side 04:23
DAY 5
00 Matches Var. 1 02:52
00 Campfire Var. 1 03:23
00 Golden Butterflies 06:00
00 Low Mist Var. 1 04:41


DAY 6
00 Matches 03:11
00 A Sense of Symmetry 04:02
00 Cold Wind 07:06
00 Cold Wind Var. 2 01:42
DAY 7
00 Campfire Var. 1 06:05
00 Cold Wind Var. 1 03:03
00 Golden Butterflies Var. 1 01:56
00 Low Mist Var. 1 02:12
00 Birdsong 04:53
00 Cold Wind Var. 2 02:50
00 Campfire Var. 2 03:35



UNDERWATER ( 2022)

01 Luminous 04:43
02 Rolling like a Ball 04:17
03 Indian Yellow 03:15
04 Flora 05:41
05 Natural Light 05:36
06 Almost June 02:54
07 Swordfish 03:38
08 Wind Song 03:19
09 Atoms 03:04
10 Temple White 04:25
11 Nobody Nows 03:18
12 Underwater 03:55

Jeroen van Veen, piano

FILM MUSIC

01 Berlin Song 4:58
02 Nuvole Bianche 5:48
03 Fly 4:51
04 L'origine Nascosta 3:54
05 Una Mattina 7:00
06 Writing Poems 5:00
07 Time Lapse 5:39
08 Ascolta 4:52
09 Experience 5:21
10 Run 6:05
11 Walk 2:45
12 Cache Cache 3:55
13 Dietro Casa 4:21
14 Oltremare 13:18
15 Ritornare 10:45
16 The Water Diviner 5:00
17 Newton's Cradle 7:52


Jeroen van Veen, piano

CLOUDS

In 2013, I recorded 7 albums of Einaudi's works released until then. The box set 'Waves' (BC 9452) contained several albums by Einaudi such as: Le Onde, Eden Roc, I Giorni, Una Mattina, Divenire, Nightbook & In a Time Lapse.
After 10 years I thought it was time for another box with works by Ludovico Einaudi; 'Clouds'.
The boxset opens with Stanze; this relatively early work from 1992, which was originally written for harp. can also be played on piano. You rarely hear the work, and that's a shame; it contains numerous elements from repetitive music. But it is also quite challenging to play the piano at times; for example, there are fast jumps in the first and last piece of this album: Notte, in which the left hand goes over the right hand, and continues to go up and down. But the part Moto Perpetuo is also a challenge for the pianist. The tempo is high and there are fast jumps that you would rather expect from Romanticism such as music by Franz Liszt than in Einaudi's often relatively quiet music. In the composition Moto Perpetuo the sound reminds me more to a Solo Devil's Dance by Simeon ten Holt than a piece by Einaudi. In short, you will be put on the wrong track as a listener. Einaudi about his album: "Milan, 1990 I was writing a series of piano pieces. I had one goal: to remove, and leave space. The title refers to the poetic stanzas but also to invisible spaces to be inhabited with the mind".


On 22 September 2012 Einaudi performed a project called "The Elements" at the Auditorium Parco della Musica in Rome as a tribute to his mentor, Luciano Berio, inspired by the four classical elements of air, water, earth, and fire. One piece from the project, "Newton's Cradle", appeared on his 2013 release, In a Time Lapse. The album takes inspiration from elements of nature, with each track evolving from a small gesture or motif, evoking a journey through fragmented thoughts and feelings. Einaudi says: "I saw new frontiers — on the edge between what I knew and what I didn't know — that I had long wanted to explore: creation myths, the periodic table, Euclid's geometry, Kandinsky's writings, the matter of sound and of colour, the stems of wild grass in a meadow, the shapes of the landscape…"

The title track "Elements" epitomises this exploration of organic growth. This piano solo arrangement remains faithful to the original impression, with each layer growing from the opening fragments. The unique accompanying backing track supports the soloist and reproduces the same invigorating energy as the album recording, providing a chance to delve into the music and immerse yourself in a truly exhilarating experience. The opening keyboard loop of "Night" forms the identity of the song, which develops gradually with gentle cross rhythms from the piano, blended with rich harmonies and scalic fragments from the strings.

Seven Days Walking

Seven Days Walking is a multi-volume album by Ludovico Einaudi, released in 2019. It consists of seven separate albums, each representing one day of the week, and features a total of over six hours of music. The album explores the concept of time and the different moods and emotions that can be associated with each day of the week. Einaudi's compositions on the album range from intimate and introspective to grand and epic, and showcase his unique blend of classical and contemporary influences. The album was a critical and commercial success, and solidified Einaudi's reputation as one of the leading composers of his generation.

In January 2018, Einaudi frequently went on walks in the Alps, "always following more or less the same trail." He revealed that during the heavy snow, his "thoughts roamed free inside the storm, where all shapes, stripped bare by the cold, lost their contours and colours," allowing him to construct the "musical labyrinth" present on the records. The composer also took a series of polaroid pictures, inspiring him to write seven volumes of music, each portraying a different aspect of his journey based on limited musical material. He consequently recorded the albums from September to October that year in Schloss Elmau in Germany.
After each walk Einaudi sits at the grand piano and plays four notes; more material is rare. Thirds, sometimes a fifth. Like footsteps in the fog, minimalism and very spaced out.

Underwater
The last solo piano album by Ludovico Einaudi is now twenty years old. He had wanted to write another for several years, but he needed the right amount of time and quiet for it. He wanted to focus on songwriting in its purest and most intimate form, without any technique or external influences. He finally found the opportunity during lockdown. He just let the music flow. The opener "Luminous" thrives on the interplay of pure, sparkling and warm, melancholic sounds and invites you to forget the hustle and bustle of everyday life. "Rolling Like A Ball" is more optimistic. Despite this, the music always remains a little modest.
The remaining songs also oscillate between thoughtfulness ("Indian Yellow", "Almost June", "Underwater") and confidence ("Flora", "Natural Light", "Nobody Knows"), whereby the Italian always focuses on clear, simple rhythms and melodies sets. As a result, a certain dynamic arc of suspense cannot be denied.
On the other hand, the overly quiet, gentle sound makes every single song suitable for a concentration playlist on Spotify. Nothing disturbs the flow. Accordingly, the disc offers ideal background music!


The last album on this box set is a compilation of pieces that have been used in movies.

Comes a Bright Day ( 2012)
Comes a Bright Day is a British film. The film was written and directed by Simon Aboud, and stars Craig Roberts, Imogen Poots, Kevin McKidd and Timothy Spall.[1] Comes a Bright Day is Aboud's directorial debut. The film is a mix of genres: a darkly comic thriller, involving a romance set within a heist, and a story about searching for the hidden gems that make life infinitely richer

Berlin Song



Insidious (2010)
"Insidious" is a American supernatural horror film that was released in 2010. The movie was written by Leigh Whannell and directed by James Wan and follows the story of a family who moves into a new house, only to be haunted by malevolent ghosts. The film was a box office success, grossing over $97 million on a budget of only $1.5 million. It was followed by three sequels: "Insidious: Chapter 2" in 2013, "Insidious: Chapter 3" in 2015, and "Insidious: The Last Key" in 2018.

Nuvole Bianche


Intouchables ( 2011)
"Intouchables" is a French comedy-drama film that was released in 2011. The movie was directed by Olivier Nakache and Éric Toledano and stars François Cluzet and Omar Sy. The film is based on the true story of a wealthy quadriplegic and his friendship with his ex-con caretaker. "Intouchables" was a huge commercial and critical success, grossing over $416 million at the box office and winning several awards, including the César Award for Best Film.

Fly
L'origine Nascosta
Una Mattina
Writing Poems


Samba (2014)
Samba is a 2014 French comedy-drama film directed by Eric Nakache and Éric Toledano. The film stars Omar Sy as Samba, a Senegalese migrant living in France who struggles to find work and keep his immigration status. Samba is eventually taken in by a volunteer organization that helps immigrants, and he meets Alice, a executive who is burnt out from her job. The two develop a relationship and help each other find new meaning in their lives. Samba was well-received by critics and was a box office success in France. It was also nominated for a Best Foreign Language Film Oscar.

Time Lapse
Ascolta
Experience
Run
Walk


Sotto Falso Nome (2004)
Strange Crime is a 2004 French-Italian-Swiss mystery-drama film directed by Roberto Andò.

Cache Cache


This is England (2006)
"This Is England" is a British drama film that was released in 2006. The movie was written and directed by Shane Meadows and follows the story of a young boy named Shaun who becomes friends with a group of skinheads. The film explores themes of racism, violence, and the effects of the 1980s Thatcher government on working-class communities in England. The movie received critical acclaim and won several awards, including the British Independent Film Awards for Best Film and Best Director.

Dietro Casa
Oltremare
Ritornare


The Water Diviner (2015)
The Water Diviner is a historical drama film that was released in 2015. It was directed by Russell Crowe, who also stars in the film as the main character, Joshua Connor. The film is set in the aftermath of the Battle of Gallipoli during World War I, and follows Connor as he travels to Turkey to find the graves of his three sons, who were killed in the battle. The Water Diviner received generally positive reviews from critics and was a box office success.

The Water Diviner
Newton's Cradle




Minimal Music or Neo Classical Music

Minimal music and neo-classical music are two distinct genres of classical music that have some similarities but also some important differences. Minimal music is a style of classical music that originated in the 1960s and is characterized by repetitive patterns, simple melodies and harmonies, and a focus on texture and timbre. It often uses electronic instruments and technology to create its effects, and is known for its meditative and contemplative qualities. Neo-classical music, on the other hand, is a broader term that encompasses many different styles of classical music that incorporate contemporary influences and techniques. It often features complex harmonies and melodies, intricate rhythms, and a wide range of dynamic expression, and can be seen as a way for classical musicians to push the boundaries of their art form and incorporate new ideas and influences. So while both minimal music and neo-classical music are forms of classical music, they have different origins and characteristics, and are considered separate genres.
On this boxset you will be able to trace down both genres. Some of the most well-known neo-classical composers today include Ludovico Einaudi, Max Richter, Olafur Arnalds, Jóhann Jóhannsson, Yann Tiersen, Nils Frahm and Jeroen van Veen. These composers are known for their unique and innovative approach to classical music, incorporating elements of other genres such as pop, folk, and electronic music into their compositions. They have all gained significant recognition and success in the classical music world, and are considered to be some of the leading composers of their generation.




Ludovico Einaudi

Ludovico Einaudi is an Italian pianist and composer who was born in Turin, Italy, in 1955. He studied at the Conservatory of Milan and began his professional career as a classical composer, writing works for orchestras, ensembles, and solo instruments. Over the course of his career, Einaudi has composed a wide range of music, from classical pieces for orchestras and chamber groups to contemporary works for solo piano and other instruments. He has also worked in film and television, composing scores for many movies and TV shows. Einaudi's music is known for its emotional depth and expressiveness, and he has been recognized as one of the most significant and influential classical composers of his generation.
Einaudi's music is considered special by many because of its unique blend of classical and contemporary styles. He often incorporates elements of minimalism, experimentalism, and folk music into his compositions, creating a distinct sound that has resonated with audiences around the world. In addition, his use of unconventional harmonies and rhythmic patterns often creates a sense of tension and suspense that adds to the emotional impact of his music. Many people also appreciate the accessibility of Einaudi's music, as it is often simple and melodic, making it appealing to a wide range of listeners.

Discography

Studio albums:

Time Out (various instruments; experimental) (1988)
Stanze (harp) (1992)
Salgari (various instruments; ballet) (1995)
Le Onde (piano) (1996)
Eden Roc (piano and strings) (1999)
I Giorni (piano) (2001)
Diario Mali (piano, kora) (2003)
Una Mattina (piano, cello) (2004)
Divenire (piano, string orchestra, electronic) (2006)
Nightbook (piano, electronic) (2009)
In a Time Lapse (piano, electronic) (2013)
Taranta Project (piano, electronic, orchestra, cello, kora) (2015)
Elements (piano, electronic, orchestra) (2015)
Seven Days Walking (piano, violin, viola, cello) (2019)
12 Songs from Home (piano) (2020)
Underwater (piano) (2022)


Live albums

La Scala Concert 03.03.03 (2003)
Live in Berlin (2007)
iTunes Festival: London 2007 (2007)
Live in Prague (2009)
The Royal Albert Hall Concert (2010)
La notte della Taranta 2010 (2011)
iTunes Festival: London 2013 (2013)
In a Time Lapse Tour (2014)
Elements, Special Tour Edition (2016)


Compilations

Echoes: The Einaudi Collection (2003)
I primi capolavori (2010)
Islands: Essential Einaudi (2011)
Einaudi Essentiel (2012)
Undiscovered (2020)
Cinema (2021)


Film and television scores

Treno di panna (Director: Andrea De Carlo) (1988)
Da qualche parte in città (Director: Michele Sordillo) (1994)
Acquario (Director: Michele Sordillo) (1996)
Aprile (Director: Nanni Moretti) (1998)
Giorni dispari (Director: Dominick Tambasco) (1998)
Fuori dal mondo (Director: Giuseppe Piccioni) (1999)
La vita altrui (Director: Michele Sordillo) (2000)
Un delitto impossibile (Director: Antonio Luigi Grimaldi) (2000)
Le parole di mio padre (Director: Francesca Comencini) (2001)
Alexandreia (Director: Maria Iliou) (2001)
Luce dei miei occhi (Director: Giuseppe Piccioni) – Italian music award for best film score (2002)
Doctor Zhivago (TV mini-series, Director: Giacomo Campiotti) (2002)
Sotto falso nome (Director: Roberto Andò) – Prize for the best film music at Avignon Film Festival 2004 (2004)
Mission: Saturn (2004)
This Is England (Director: Shane Meadows) (2006)
This Is England '86 (Director: Shane Meadows (2010)
Stargate Universe – Pathogen (2010)
Sangandaan – Landas ng Buhay (2010)
I'm Still Here (Director: Casey Affleck) (2010)
Das Ende ist mein Anfang – German film (2010)
Black Swan trailer (Director: Darren Aronofsky) (2010)
This Is England '88 (Director: Shane Meadows) (2011)
Intouchables – (Director: Olivier Nakache & Eric Toledano) (2011)
Primavera – (Gary Speed RIP Documentary: Sport Wales) (2011)
J. Edgar – (Director: Clint Eastwood) (2012)
Derek (pilot episode) – (Director: Ricky Gervais) (2012)
The Water Diviner – (Director: Russell Crowe) (2014)
Mommy – (Director: Xavier Dolan) (2014)
This Is England '90 – (Director: Shane Meadows) (2015)
The Third Murder – (Director: Hirokazu Koreeda) (2017)
The Father – (Director: Florian Zeller) (2020)
Nomadland – (Director: Chloé Zhao) (2020)
Cosmos: Possible Worlds – (TV series, director: Ann Druyan; episode: "The Sacrifice of Cassini", score by Alan Silvestri) (2020)


www.ludovicoeinaudi,com



Jeroen Van Veen (1969) started playing the piano at the age of 7. He studied at the Utrecht Conservatory with Alwin Bär and Håkon Austbö. In 1993 he passed the Performing Artists' Exam. Van Veen has played with orchestras conducted by Howard Williams (Adams), Peter Eötvös (Zimmermann), Neal Stulberg (Mozart & Bartok) and Robert Craft (Stravinsky). He has played recitals in Europe, Russia, Canada & the USA. Van Veen attended master classes with Claude Helffer, Roberto Szidon, Ivan Klánsky and Leonid Hambro. He was invited to several festivals: Reder Piano Festival (1988), Festival der Kunsten in Bad Gleichenberg (1992), Wien Modern (1993), Holland Dance Festival (1998, 2010) Lek Art Festival (1996-2009). Van Veen recorded for major Radio- and Television companies. In 1992, Van Veen recorded his first CD as Piano duo Van Veen. In 1995 Piano duo Van Veen made their debut in the United States. They were prize-winners in the prestigious 4th International Murray Dranoff Two Piano Competition in Miami, Florida. After this achievement they toured the United States and Canada many times. The documentary "Two Pianos One Passion" (nominated with an Emmy Award 1996) portrays them as a duo. In 2016 Van Veen was awarded with the NPO Radio 4 2016 Award, for his efforts and promotion of classical music beyond the concert halls. His lay-down (ligconcert) concerts were praised as an example of how classical music can attract new audiences.
The various compositions by Van Veen may be described as Minimal Music with different faces, Crossovers to Jazz, Blues, Soundscape, Avant-Garde, Techno, Trance and Pop Music. His Minimal Preludes for piano, and his NLXL are some of his most played pieces worldwide. His latest Minimal Piano Concerto Continuum was a great success. In 2015 he premiered his Incanto nr 2 in the Amsterdam Concertgebouw with Sandra van Veen. His minimal preludes are being performed worldwide and currently Van Veen is working on Book VII and VIII (numbers 80 -110).
His last composition, Dutch Delight for carillon, was commissioned by 42 communities that were connected to the birth of the Netherlands in 1572.
Currently Mr. Van Veen is director of Van Veen Productions, Chairman of the Simeon ten Holt Foundation, Pianomania Foundation and artistic director of several music festivals. He is also active as Overseas Artistic Director in the Murray Dranoff Two Piano Competition based in Miami. Over the last 25 years Van Veen recorded more than 210 CD's and 5 DVD's, mostly for Brilliant Classics. His discography includes Adams, Einaudi, Glass, JacobTV, Minimal Piano Collections, Nietzsche, Nyman, Pärt, Reich, Riley, Satie, Sakamoto, Stravinsky, Tiersen, Ten Holt, Van Veen, Yiruma and many others.
Van Veen is also praised for his productivity some say, 'the man who records faster than his shadow'.


"Dutch pianist and composer, Jeroen van Veen, the leading exponent of minimalism today", Alan Swanson (Fanfare)
"Jeroen van Veen has for many years been a powerhouse in the piano world of the Netherlands and beyond", Dominy Clements (Musicweb-International)
"The Maximal Minimalist Missionary", Raymond Tuttle (Fanfare)

www.jeroenvanveen.com





DDD
Microfoons: DPA 4006A
Piano: Yamaha Grand Piano C7
Produced by: Van Veen Productions for Brilliant Classics
Photo Jeroen van Veen: David de Haan
Cover photo: Jeroen van Veen
Liner Notes: Jeroen van Veen
Publishers: Ricordi, Chester
Executive Producer: Jeroen van Veen Recording and Mastering: Pianomania
Software: Pro Tools, Logic & Sequoia
Recordings:Studio IV, Steffeln DE

CD No: 96912




Share